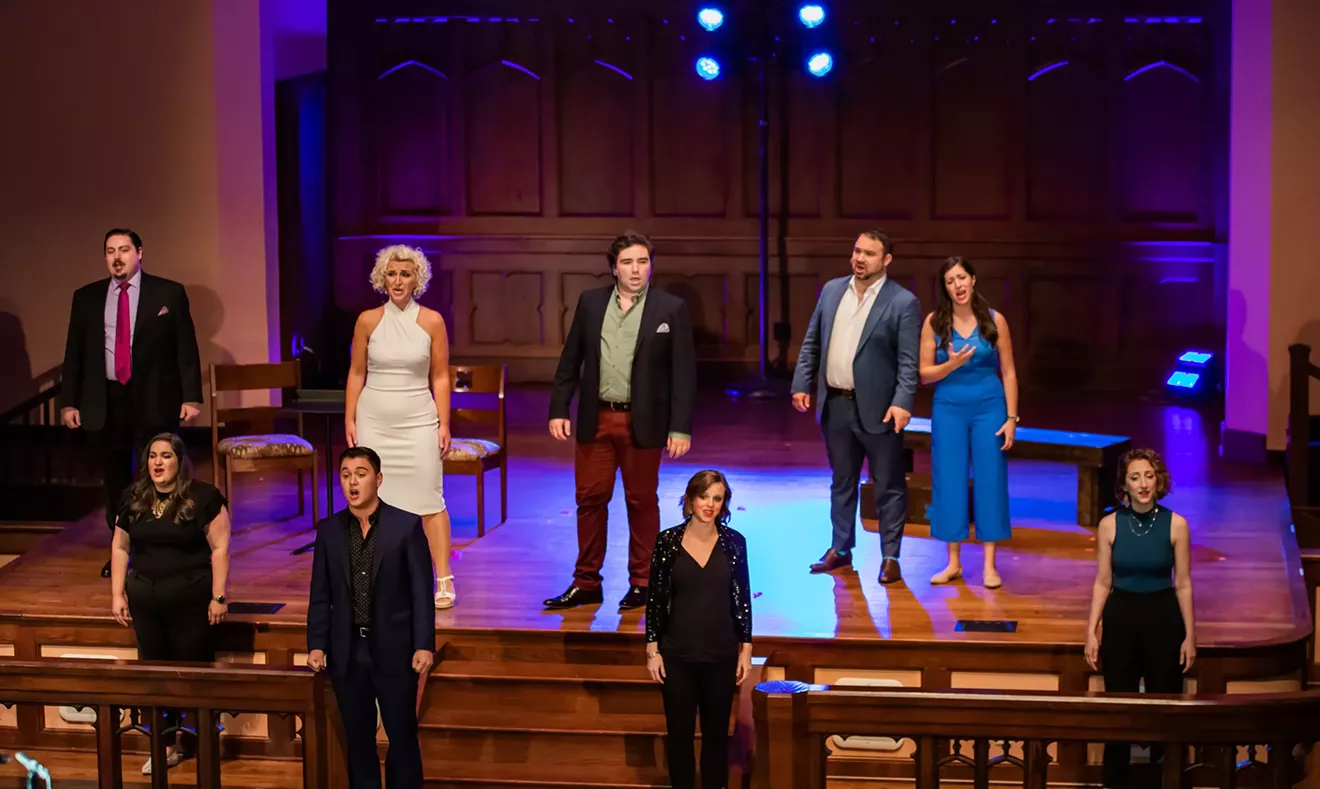 Beyond the voices… and the voices from beyond | cultural | Savannah News, Events, Restaurants, Music
Celebrating its 10th anniversary, the Savannah Voice Festival (SVF) is jam-packed with songs in anticipation of kicking off the summer festival season with a two-week festival from August 7-21.
Taking place in our Host City, the SFV celebrates the classical voice in multiple performances offering the finest repertoire in opera, musical theater and song.
"We're so excited for our summer season to begin," said Chad Sonka, Executive Director. "SVF grew out of its sister organization, the VOICExperience Foundation, under the aegis of world-renowned opera superstar Sherrill Milnes and his soprano wife, Maria Zouves.
Milnes' singing legacy continues in the form of these programs. So with that in mind they founded VOICExperience, which is at the heart of its voice training and mentoring program.
"Other than that, they said, 'Well, these wonderful singers now need a place to practice their abilities and perform. Savannah welcomed us with open arms ten years ago," Sonka said. "Our anniversary season is called Voices from Beyond, which takes up the theme of the summer productions. We have voices coming in from all over and new voices being introduced to Savannah in a very exciting way," he said.
The upcoming festival has a variety of offerings at different venues, including the Charles H. Morris Center, Ashbury Memorial Church, Christ Church Episcopal Church, and the Telfair Museum Rotunda.
"We have about two dozen events in two weeks; very active", said Jorge Parodi who has been involved since the creation of SVF, but who is the artistic director for the first time.
"Several days, we have two events. All operas also occur twice. There are many new artists that the public will love. Many will be performing for the first time in Savannah. We love the combination of old and new, music recitals, opera, just a lot of things," Parodi said.
The new artistic director saw the event with fresh eyes.
"It's the first time I've planned a season with a team," Parodi continued. "I was thrilled to have been chosen to work with the cast and all things artistic for the festival. We look forward to showing audiences our very exciting lineup of shows and concerts.
Even though he's now been a New Yorker for 25 years, Parodi considers himself "a very southern guy" because he's originally from Argentina, or as he laughingly put it, "as southern as you can get." However, there is something about Savannah's beauty and southern city hospitality that he felt was fitting for this festival.
"The reason we moved the music to Savannah," Parodi began, "is that we found there was a niche that needed to be filled because Savannah didn't have a classical component. There was no opera and now we have opera throughout the festival.
"We also have a group of 10 artists working for two weeks who will come as part of the artists in residence for the SVF," Parodi said. "The educational component that accompanies it helps and encourages young professionals to launch themselves as artists in our festival."
Throughout its existence, the SVF has strived to carry on the legacy of Sherrill Milnes and the opera singers of his generation. The Executive Director said, "We've brought together great artists to come to Savannah – some of them have been coming for many years – to perform and deliver this music. The way it blends thematically is that all operas will have a mystical element to them.
"There are so many deals we have this summer, but I want to highlight the premiere of operas for Savannah," Sonka said. "These are two little one-act operas: Alice Ryley and Anna Hunter. They are two women who shaped history and what we know Savannah is now. If a visitor comes to Savannah [who] wants a bit of history as well as amazing vocals and exceptional music, all in English, that's what you'll want to hear. Both of these operas were commissioned for Savannah and written by our Composer-in-Residence, Michael Ching.
Both operas will be performed on August 12 and 13 at the Charles H. Morris Center.
"They're both presented as ghost stories, so they're written as haunting, mystical, yet interesting and loving stories," Sonka continued. "Alice Ryley is a Savannah ghost story about immigrants who first settled [here] and how it was for them. Alice Ryley is a drama about the first woman hanged in Wright Square. It was tragic, but influential in Savannah's history.
"Anna Hunter is credited with starting the Historic Savannah Foundation and preserving downtown Savannah for its charm and history. [still] is," he said. "Preserving this history is so important and Anna Hunter has focused much of her effort on and around the Davenport House Museum, so iconic to Savannah's history."
Other highlights on the calendar include a production of The Medium in the rotunda of the Telfair Museum, a review of Brigadoon, a comeback of sorts, and the end of the season with Faust, a French opera, performed with subtitles. .
"There is something about opera in that the music is not a part or an actor. Music is a character," Parodi pointed out. "So you get this universal message to take action from the music. Even if you don't know exactly what they're saying, you know exactly what they're saying. You will feel [it] because the music and the singing make the game. It's a very important concept when you do classical music and especially in opera.
"In opera, music is not a vessel or a beautiful melody [simply] accompanying the story. The music is the actor," he said. "You will feel what is happening because you hear the singing and the music. It's also much more compelling and emotionally engaging because you feel it in your bones even if you don't know the [language] the texts."
"Opera is great," Parodi said, also admitting he was "totally biased." "It's exciting, full of passion, fascination, musical theatre, performance with the human voice and instruments. It's a concert, a voice and a stage together – the best of all worlds together.
He said there's also a different level of understanding the stories because there's a more emotional connection to the opera.
"These operas are popular for a reason. They are exciting and people love them. The public will love to see them. Not everyone likes everything and we understand that not everyone will like opera, but we [hope] everyone will try it and experience it. I hope this will be someone's first time encountering an opera production and they will love it.
In her first year as executive director, Sonka is also directing. "I look forward to engaging with the festival in a different way," he said. "…that is, engaging with him in every aspect in a way that I've never seen before. It's exciting for me to be involved in a more global way. Also, the staging, The Medium, which will be performed by our student scholarship artists who [studied] in Iowa with me during our two-week intensive voice study where they learn these roles. They will come to play these roles and the opera of Savannah. We are so excited to be able to bring these up-and-coming artists who have a lot of promise to Savannah to do this work.
Sonka hopes the public will take away an appreciation for the art and all it offers.
"There is a need and importance for great songs and great stories in our lives. Savannah is the place for it and we are the ones – SVF – who are happy to be the ones offering it. It's a complete experience of what this music can offer. It's special and moving. Savannah is the finest palace to offer our audience.
The artistic director agreed.
"What we do is all about allowing the public of Savannah to discover art, song, musical theatre, opera, sacred music, music with pianos, music with instruments, music with organs… and all kinds of opportunities."
He also agrees that Savannah is the place.
"I love being in Savannah. It's one of the most beautiful cities in the country and it's a pleasure to be there," enthuses Parodi. "We've made so many friends over the ten years we've been here. It feels like coming home for our summer stay."
"I will lead the Faust and play with great singers and talents. For me, it's a pleasure to play, but I've been so involved in the planning, programming and development that I'm ready to share it with the public and our friends," Parodi said. "It will be like a party for us. We will all be together and celebrate every performance. For the public, there are so many events that they will have this [near] an overload of incredible songs and music and a repertoire that will be very enjoyable. Hopefully they will see as many as possible. There are actually those who come to town these two weeks and come to whatever we do.
Sonka compared Hostess City to one of the upcoming performances.
"In a way, Savannah is a bit like Brigadoon. It's a special place and you're called to it…again and again. Sometimes you go back to your life away from it and you can forget about it until let him remind you… what he does," he said.
"There's definitely something about Savannah that's welcoming, warm, and makes people want to relax and open up and engage in the arts and have that kind of family vibe.
"I've been coming to Savannah for about 9 years, since 2013, and there's a reason I keep coming back and calling it my home away from home. The fact that it is filled with such welcoming people is what keeps others coming back. Just as we will be back.
Parodi agreed and added, "To the audience, if they like music, please mark your calendar. If you're new, please pick whatever tickles their fancy and pick a few events. I promise they will have an awesome experience. They will see one and want to see more.
"Shows are not expensive, especially for live performances. And, they're even cheaper with a season pass that lets members come see all of their shows throughout the year.
"It means a lot to us to continue this legacy of great music and to be able to call Savannah home," Parodi concluded.
The Savannah Voice Festival is a non-profit organization whose mission is to bring classical vocal music to the city.
For more information visit savannahvoicefestival.org