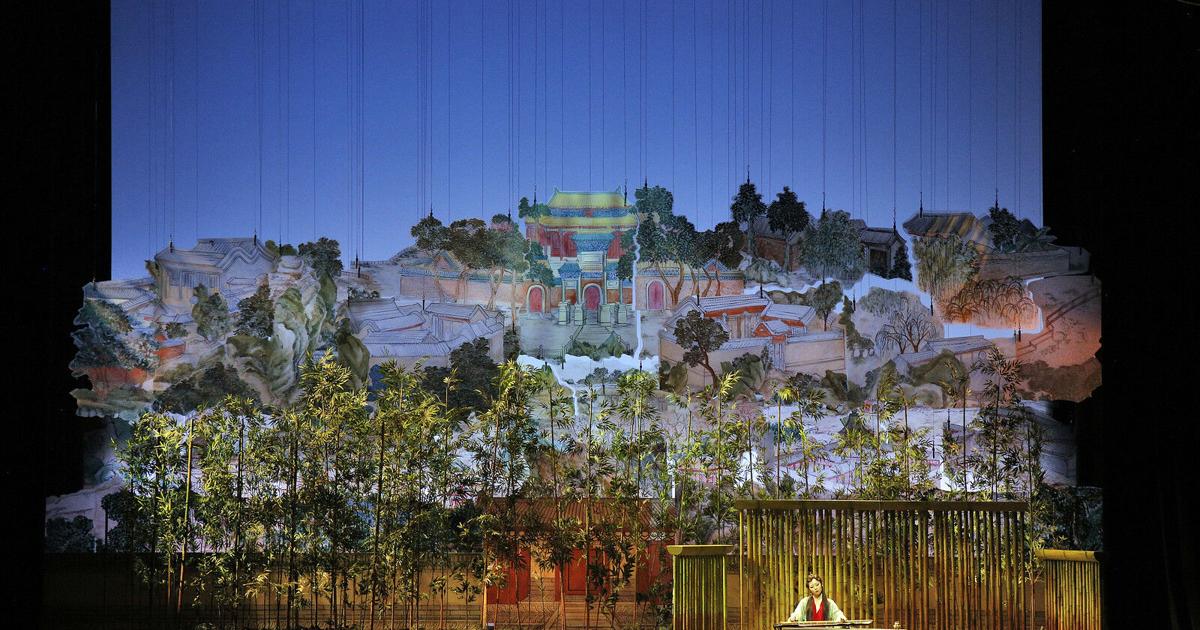 'Dream of the Red Chamber' returns to SF Opera where it was born | Culture
As San Francisco Opera resumes its 2016 world premiere of "Dream of the Red Chamber," June 14-July 3, Bright Sheng's musical treatment of a classic Chinese novel is produced by a pan-Pacific cast and crew – Taiwanese, Chinese, Chinese Americans, Koreans, Singaporeans.
Sung in English with English and Chinese surtitles, the opera, which went from the War Memorial to a hit at the 2017 Hong Kong Arts Festival and then on tour in China, was the last major contribution of the former managing director of the SF opera David Gockley, before retiring. He has commissioned 43 new operas over his long career, including eight for the San Francisco company he began directing in 2006.
The source is a huge work, a precursor to endless television series. Cao Xueqin wrote the first 80 chapters of "Dream of the Red Chamber", first published in 1790, then collaborators added another 40 chapters later. The book, source of movies and TV series, is so important in China that the word "Redology" was coined for its study.
The most prominent redologist was Zhou Ruchang, who spent seven decades studying the work. Originally supported by Mao Tse-tung, who claimed to have read "Red Room" five times. Zhou, who died in 2012 at the age of 94, still ended up in prison during the Cultural Revolution.
The novel has been compared to Shakespeare's "Romeo and Juliet" with its tragic romance between Bao Yu (sung by Korean tenor Konu Kim) and Dai Yu (Chinese soprano Meigui Zhang), against the family plan to have him marry the wealthy Bao Chai (the Chinese mezzo Hongni Wu). Important roles are held by the Korean mezzo-soprano Hyona Kim, the Taiwanese soprano Karen Chia-ling Ho; the conductor is the Singaporean Darrell Ang. Director Stan Lai and designer Tim Yip are both Chinese-American.
The librettist is David Henry Hwang, whose first piece – at age 22 – was 1979's 'FOB', but there's nothing 'freshly landed' from the Los Angeles-born, New York-based author. . Chinese and Asian themes dominate in his vast work of theater and opera, although he freely admits that "my Chinese is practically non-existent".
The playwright knew Cao Xueqin's original novel "by its formidable reputation, but I have never read it, not even in translation."
Known for his many plays, including the Tony Award-winning "M. Butterfly", Hwang – whose mother was a piano teacher – has a passionate interest in opera. He is the librettist of half a dozen successful operas.
Hwang knew that "of the four great Chinese novels, 'Dream' was the domestic and sexiest story. I also knew that it is generally considered the greatest work of Chinese literature."
Other most acclaimed Chinese classics are "Romance of the Three Kingdoms", attributed to Luo Guanzhong; "Journey to the West", attributed to Wu Cheng'en; and "Water Margin" or "Outlaws of the Marsh" (All Men Are Brothers), attributed to Shi Nai'an or Luo Guanzhong.
Composer Bright Sheng co-wrote the libretto, crediting Sheng with "a vision for how to approach adaptation". Hwang only agreed to take on the project if the composer joined him as a co-librettist. He read David Hawkes' five-volume translation of the novel, known in English as "The Story of the Stone".
Among those who grew up with Red Chamber is tai chi master and Taoist scholar Chungliang Al Huang, who says the work is a touching story of a love triangle between Bao Yu and his two cousins, Dai Yu and Bao. Chai.
"Even as a teenager," says Huang, "I was infatuated with this beautifully written, romantic, intriguing and sad story of unrequited love, especially in sympathy with Dai Yu, the tragic heroine who embodies female fragility. poetic. This mega-saga needs time of immersion and maturity for readers to gradually enter the long story with 40 main characters and nearly 500 minor characters.
"Dream of the Red Chamber" was first published in 1791, during the Qing Dynasty. An NPR report on a recent English adaptation offered this summary from Cliffs Notes: "Boy meets Girl #1; then Boy meets Girl #2. Boy loves them both, but he's in love with girl #1. So when the boy is forced into an arranged marriage with girl #2, tragedy ensues."
Known for his fusion of Chinese and Western music, Sheng, 67, was born in Shanghai, spent seven years near Tibet during the Cultural Revolution, and has lived and worked in the United States since 1982. His years in Tibet and his interest in folk music led him to collaborate with Yo-Yo Ma and the Silk Road Project. He said he considers himself and his music to be "100% Chinese and 100% American", although he also said he rarely thinks about it now.
San Francisco-born actor Francis Jue will portray the non-singing role of the monk. Jue is well known for his theatrical work, including his roles in David Henry Hwang's plays 'Soft Power', 'Yellow Face' and 'M. Butterfly'. Among her many film and television credits are appearances in "Madam Secretary" as Chinese Foreign Minister Chen and The Good Wife.
Jue's grandfather, Joseph Sunn Jue, was the founder of the Grandview Theater and Grandview Studios in Chinatown. The name Grandview is based on Grand Garden in "Dream of the Red Chamber". Additionally, Bruce Lee's father has participated in Joseph Sun Jue film productions and Francis portrayed Bruce Lee's father in a
play off-Broadway. These are just a few of the connections to San Francisco's Chinatown in Francis Jue's family history that now tie into his work with "Dream of the Red Chamber."
IF YOU ARE GOING TO:
"Dream of the Red Room" at the San Francisco Opera
Where: June 14-July 3
When: War Memorial Opera Plaza, 301 Van Ness Ave, SF
Tickets: $26 to $408, Live stream at 2 p.m. on June 19 for $25
Contact: (415) 621-6600, sfwarmemorial.org