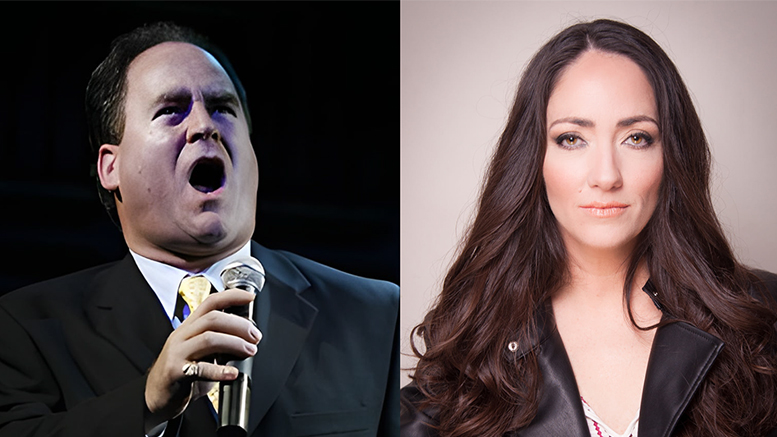 Indiana Orchestra to Host First Gala with Broadway Artists — Muncie Journal
By Melissa Jones—

MUNCIE, Ind. – Orchestra Indiana brings Broadway to downtown Muncie at its inaugural Music of the Night gala on Friday, April 8.
"It's one of those nights you'll be glad you're in Muncie when nationally acclaimed Broadway stars Craig Schulman, Tamra Hayden and Susan Anderson perform hits from Broadway's most popular musicals, right at your doorstep. table," said Scott Watkins, executive director of Orchestra Indiana (formerly Muncie Symphony Orchestra). "Performances will be spectacular and memorable."
Watkins said the Music of the Night gala will highlight Orchestra Indiana's mission – "to redefine the orchestral experience" – by bringing exciting and inspiring professional musical performance to the community.
"The event is meant to celebrate and raise awareness of the importance of the orchestra to our community," Watkins said. Orchestra Indiana, formerly the Muncie Symphony Orchestra and Marion Philharmonic Orchestra, formed at a time when some regional orchestras were feeling the effects of pandemic limitations on large gatherings and in-person events. By joining forces, Orchestra Indiana aims to unite communities through the power of music.
"Music is incredibly powerful in its ability to bring people together through a shared experience, and we want to bring that feeling to Muncie, Marion and the rest of East Central Indiana," Watkins said. "This gala is just the beginning of the incredible experiences people can expect from Orchestra Indiana."
Craig Schulman is the only performer in the world to have portrayed three of the most extraordinary musical theater characters ever written: he performed the title roles of jekyll and hydeAndrew Lloyd Webber The Phantom of the Operaand nearly 2,000 performances of Jean Valjean in Wretched on Broadway and around the world. Additionally, he sang on the Rosie O'Donnell Show, NBC Weekend Todayand guiding light.
Tamra Hayden is a famous singer and accomplished multi-instrumentalist, playing piano, guitar and viola. She has five solo albums to her credit, as well as dozens of musical collaborations. She appeared on Broadway as Cosette in Wretched and like Texas in Cabaret. Off-Broadway performances have included Jacques Brel is alive and well and alive in Paris, and she has toured nationally as Christine in The Phantom of the OperaHodel in fiddler on the roof and It's nothing but the blues.
Susan Anderson has had a full and varied career, ranging from Broadway productions to films to recordings. As a conductor and musical director, Anderson has worked with the Broadway and national touring companies of Pirates of Penzance, Me and my daughter and Cats. She played in the orchestra pits of Chitty Chitty Bang Bang and woman in white and currently plays in spamlot. She has conducted pop concerts with the orchestras of Milwaukee, Detroit, Phoenix, Portland and Shreveport and recently conducted the Philharmonia Orchestra of London at Abbey Road Studios.
The Music of the Night Gala, presented by Open Door Health Services, will kick off with cocktails and music followed by dinner with themed food stations including A Stroll Down 5and Avenue, A Swim Around Long Island, A Tour of Italy and A Times Square Treat.
The event will take place at 6 p.m. on Friday, April 8 at the downtown Open Door building (former Chase building; 220 S Walnut St., Muncie, Indiana, 47305).
Individual tickets and tables of 8 are available at $75 per person. Tickets can be purchased online at OrchestraIndiana.com.
Corporate sponsorships are also available by contacting Scott Watkins or Jenni Boseker at the Orchestra Indiana office at 765-216-0970 or [email protected]
"We are extremely grateful for the generosity of Open Door as presenting sponsor and host of the site," said Watkins. "This is an organization that also values ​​community and quality of life, and it's really meaningful to be united in those values."
Orchestra Indiana would like to thank its current sponsors for this event:
Open House (Host and Presenting Sponsor)
Indiana Trust Wealth Management (lead partner)
Fred Reece (Take A Bow Partner)
Accutech (partner of the ensemble)
Aspect 6 (Partner Set)
Caldwell Banker (ensemble partner)
Deltec Solutions (partner of the ensemble)
Intersection (Partner Set)
J Metzger Group (Ensemble Partner)
LaRea Slater (ensemble partner)
Meridian Health Services (Together Partner)
Once Upon A Plate (Ensemble Partner)
Ray & Karen Allen (ensemble partner)
Sight & Sound (Ensemble Partner)
Jenni Boseker (ensemble partner)
Related article below.
Muncie Symphony and Marion Philharmonic Join Forces as "Orchestra Indiana"