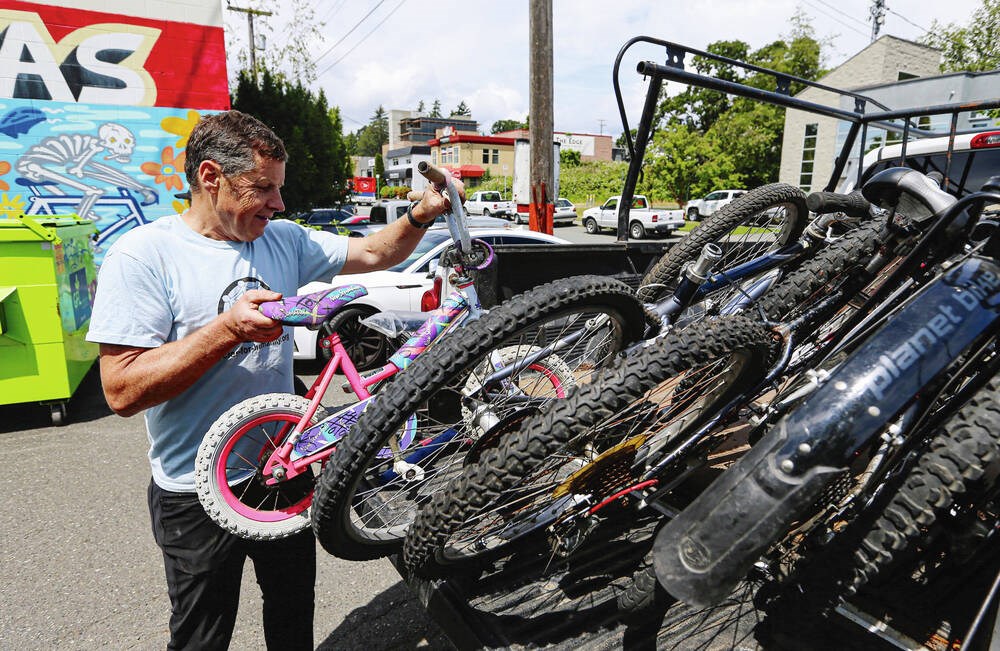 Our Community: Bikes for Africa, $10,000 for Habitat for Humanity
The Victoria Chapter of Bicycles for Humanity is once again accepting good used bicycles, financial donations and spare parts to fill a shipping container for disadvantaged communities in Africa.
Be a Ferris wheel, help send bikes to Africa
The Victoria Chapter of Bicycles for Humanity is once again accepting good used bicycles, financial donations and spare parts to fill a shipping container for disadvantaged communities in Africa.
To date, the group has collected 300 bikes, with room for another 150. This is the group's 13th expedition and will mark the 5,900th bike shipped to Africa since 2008. Two container loads went to Namibia and two to Uganda, while the last eight went to Malawi.
During the year, the organization partners with the One Love Africa Foundation, which donates a portion of donated bikes to people in need and sells the rest to raise funds for projects and provide programs for the community.
One Love is opening a Bicycle Empowerment Center which will train marginalized young people in bicycle mechanics and welding, providing them with vocational skills.
One of the One Love recipients from Newlands village in Tanzania writes: "I got a bike for my children and it helps them a lot especially to go to school and they are not tired anymore, I have also received one for me, it has a big impact in my life, I use it for going to the farm, for physical exercise, I no longer walk long distances or long distances. Also other people who have received these bikes helping them to go to the different markets when they do their business also give their children to take them to school especially these schools are far from our village Thank you – people in Canada are very nice, we welcome you love and thank you very much.
Donated bikes must be in reasonable repairable condition.
Bikes can be dropped off at the residence of Chris Willie, co-director of the Victoria chapter of Bicycles for Humanity, at 847 Royal Oak Ave. To arrange pickup, call 250-479-7415.
Victoria student wins $10,000 grant from Habitat for Humanity
A Victoria student has won a $10,000 scholarship in Habitat for Humanity's Meaning of Home writing contest, which asks students in grades 4, 5 and 6 to share what what does home mean to them.
Grade 6 student Levi B was one of nine finalists across the country, out of more than 13,000 students who entered the contest, which raised more than $311,000 for Habitat for the Environment organizations. humanity across Canada.
By sharing what a home means to them, students also learned about affordable housing issues in their communities.
In addition to the three grand prize winners, who each won a $30,000 grant for a local Habitat, the nine finalists won grants of $10,000.
Each student who entered the contest won a $10 donation for their local Habitat group.
The Meaning of Home competition is a unique opportunity for students to reflect on what home means to them, said Tiffany Gates, director of family services at Habitat for Humanity Victoria, who said the charity was "thrilled to receive a $10,000 grant for its construction. funds.
"Essentially, schoolchildren in Victoria contribute directly to building homes in our community. We hope that next year even more students will have the opportunity to participate in this impactful competition.
To read all of the winning entries, go to meaningofhome.ca/page/winners2022.
World Oceans Day is making waves
The Greater Victoria Ports Authority and Eagle Wing Tours are hosting World Oceans Day today at Fisherman's Wharf.
The family-friendly educational event highlights all things ocean, including scuba divers, touch tanks, crafts, watershed models and flying killer whales.
More than 20 participants will be presented on site. The event is free. It operates from 11 a.m. to 4 p.m. today at Fisherman's Wharf, 1 Dallas Rd.
Terry Fox Run organizer wanted
The Terry Fox Foundation is looking for a Run Organizer and volunteers to participate in this year's Victoria Terry Fox Run.
On September 18, hundreds of thousands of people across Canada will lace up to participate in the annual Terry Fox Run to raise money for cancer research.
The event is non-competitive, grassroots and family oriented, with communities across Canada coming together to realize Terry Fox's vision of a world without cancer. Victoria has held an annual Terry Fox Run since 1985, contributing over $1 million to cancer research.
The foundation will work closely with the volunteer chair and provide support, training and equipment to ensure the success of this year's race. They hope to find an enthusiastic, organized person who has leadership skills and wants to make a difference in the world.
For more information, contact: Jack Basterfield, Director of Community Development at [email protected] or 1-888-836-9786.
Artists tuned for a natural high
Opera singers join poets, drummers and community activists in Pacific Opera Victoria's Voices in Nature, a performance billed as reflecting the beauty of the natural environment and immersing visitors in a deep-rooted sense of place , at Saxe Point June 13-18.
Now in its second summer, Voices in Nature brings together multidisciplinary artists, including local poets Kate Braid, Zoe Dickenson, Beth Kope, Marlene Grand Maître and Terese Svoboda, and members of Pacific Opera's Civic Engagement Quartet — bass Simon Chalifoux, tenor Mike Fan, soprano and composer Rebecca Gray and countertenor Ryan Patrick McDonald.
This walk-in activity introduces people to native wildflowers and local bees. QR codes throughout the grounds connect visitors to CreativelyUnited.org, a free nonprofit hub, as well as excerpts from 58 Solutions for a Lighter, Happier Life, a guide to living more fully and sustainably.
Free entry. Organizers recommend visitors set aside about an hour to enjoy the park and the shows. For more information, including transportation and parking, visit pacificopera.ca.
clean for history
After a two-year hiatus, St. Luke's Church is once again inviting the community to visit or help clean up its historic cemetery on June 18.
Drop by anytime that morning to see what's new in the cemetery, ask a member of the cemetery committee to help you find a family grave or help clean up.
St. Luke's Cemetery is one of the original church burial grounds in Victoria and the final resting place of many pioneers of Cedar Hill, Lake Hill and Gordon Head, as well as others who settled in the region.
The first recorded burial was in 1886, although there were probably unrecorded burials before that. Many residents of the Greater Victoria area have had parents, grandparents and great-grandparents buried in St. Luke's Cemetery. You can learn about some of the area's earliest residents while helping with necessary upkeep.
The event runs from 9 a.m. to 11:30 a.m. on Saturday, June 18 at the Church, 3821 Cedar Hill Cross Rd. For more information, go to stlukesvictoria.ca/our-community/st-lukes-historic -cemetery.