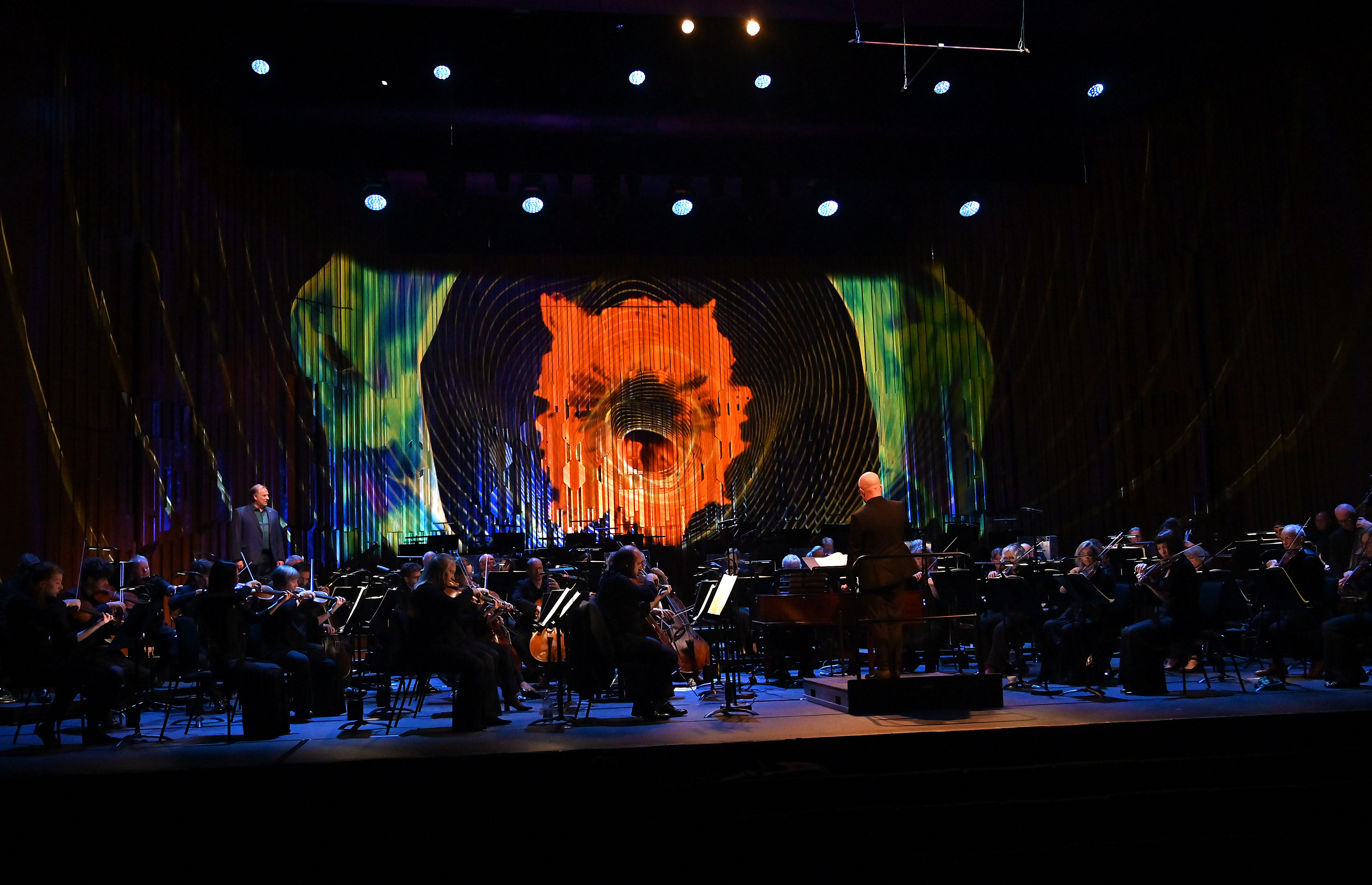 The Creation, Academy of Ancient Music, Cummings, Barbican review – return to choral paradise
AAM's new musical director, Laurence Cummings, commissioned his substantial orchestra, a choir of 26 musicians, five soloists and even Alastair Ross' striking and historic continuo – a Broadwood Forte pian from 1801. They endowed the vision of Haydn's Enlightenment of a sinless universe with the appropriate grandeur along with all the tenderness, humor and warmth written in this glorious score. If you don't believe that great art can ever be happy without blemishes, then The Creation may leave you hungry for the tragedy of mankind's disgrace which the libretto deliberately removes from its sources in Genesis and lost paradise. Just now, however, we gained some shadowless happiness. Cummings delivered it in gift wrap.
This Creation was born in English rather than German. The libretto, after all, was published bilingual in the first edition of 1800. Throughout the play you can hear Haydn striving – and even succeeding – at outdoing the musical strokes he had admired in English oratorios. by Handel in London. In addition to his first-class players and backing vocals, and accomplished solo vocals, Cummings had additional help on the path to Heaven in the form of video projections from Nina Dunn Studio. They surrounded the stage with an ever-changing vortex of digital effects. All this virtuoso hi-tech wallpaper – video designed by Matt Brown – introduced a risk of sensory overload in a work already full of mimetic and descriptive writing that gives a musical coloring to every type of entity, from worms to flowers in passing through the stars. Sometimes the projections brought real magic to the mix. As the universe emerged from chaos after Haydn's groundbreaking orchestral performance of a pre-creation void, the deep-space Big-Bang patterns of the backdrops exerted their cosmic charm as explosive nebulae circled around. the scene. I was worried that as God created flowers, trees, fish, birds, beasts and finally Adam and Eve, the visuals might get too literal and David Attenborough-ish. Fortunately, Brown did not stray too far from this figurative path. We have seen identifiable flowers, including an apt strelitzia, or a bird of paradise flower (photo above with Mary Bevan), but otherwise semi-abstract patterns suggested a constantly changing landscape of oceans, forests and meadows. At the moments of great drama that punctuate Creation, as when light illuminates the darkness with a sonorous blaze, bold and simple images – a sun, a moon, an eye – have done their complementary work. Were there times when this bubbling, fractal optical activity turned out to be too smart? Certainly. Has it seriously hampered our appreciation of the art presented by singers, choirs and musicians? I doubt.
As for the three angelic soloists of the first two parts, they avoided the stiffness of the oratorio by a certain mobility. They threw their recitatives from the back of the stage but moved forward for their arias. Stuart Jackson's Uriel made an awesome tenor pivot, courteous but formidable, powerful but never rough in the flowing lines of his storytelling. This voice is absolute rock, but friendly rather than jagged. When the sun first rose in its aural and (in this production) visual glory, it more than held up. Matthew Brook's Raphael captured the curious blend of lyricism, wonder and humor in Haydn's sets of the Genesis stories. Its dizzying, rhapsodic passages of wonder give way to almost comical passages as the sheer oddity of God's work – slitherers, wadders, creepy-crawlies and all – finds musical form. It's not often that you hear belly laughs from audiences in a canonical masterpiece like this, but Brook understood them when he showed how "into the long dimension slips with a sinuous trail of the worm".
Mary Bevan's Gabriel, meanwhile, has sailed elegantly through the coloratura passages that express the new wonders of nature ("With greenery clothed the fields appear"). She sounded good in the air and in feathers as the creation of the birds ("On mighty raised pens") inspired some of Haydn's sweetest pastoral styles. AAM players participated with the cute or bulky mimicry of fish, meat and poultry that Haydn gives to the flute, horn, clarinet, trombone, etc. Cummings kept his tempos alive (like Haydn, it seems) and pulled some incredibly tight and fierce backing vocals from the chorus behind. This Creation glowed and shone in a clear, invigorating light. God (and Haydn) did not say, "Let there be mud!" The exchange of praise between the choir and the trio of soloists ("Accomplished is the glorious work") exceeds even Handels Messiah in the hands, and voices, as sure and well managed as these (photo above: Matthew Brook, Stuart Jackson, Mary Bevan).
Cummings stopped there for the meantime, and thus left the scenes of Adam and Eve in the Garden of Eden to follow as a shorter, stand-alone coda. Rather than bringing back the angelic soprano and bass soloists as usual, AAM indulged in the luxury of fresh vocals as a blessed pair: Rachel Redmond and Ashley Riches, both sweet in their tone, precise in their diction and perfectly attuned to the magnificent ebb. and the flow of their common numbers. As Haydn's music changes perspective, moving from divine love to human love, from universal to intimate, the lonely eminence of angels gives way to a quasi-operatic drama. So these ancestors of humanity touched, kissed, knelt and even lay down on their heavenly soil.
You can't hear these lavish yet refined duets without thinking of Haydn's young friend, Mozart, who died six years ago while writing. Creation. Yet this Adam and Eve inhabit a garden without snakes where beauty always stops before the pain of doubt, suspicion and fear. Physically expressive, vocally polished, Redmond and Riches (photo above) makes the unblemished beauty of "Holde Gattin" (or, as we have heard, "Graceful consort") a feast for the ears and a balm for the soul. At that time, I admit, video projections had ceased to engage me a lot – or to bother me. The choir ended our delight with their final contrapuntal explosion; and paradise gave way to a humid night in the brutalist citadel. But Cummings, the AAMs and their singers had, beautifully, opened the doors of the Eden choir once again.