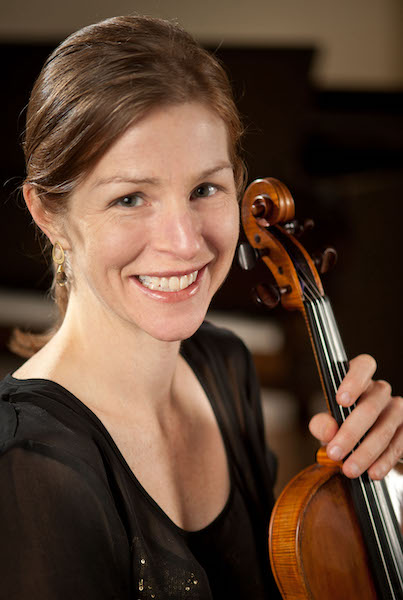 The Faculty Performance Series will feature work composed by HBMS faculty member Derek Cooper from 10-28
The Faculty Performance Series will feature work composed by HBMS faculty member Derek Cooper from 10-28
Friday, October 21, 2022 2:24 PM

Last update: Friday, October 21, 2022 2:31 PM

Posted: Friday, October 21, 2022 2:24 PM

Joanne Wallenstein

Hits: 31
april johnson2022-2023 HB Artists Faculty Performance Series Continues Friday, October 28, 2022, at 7:30 p.m. with a performance of Professor Derek Cooper's composition Survivor: 4 Autobiographical Pieces for Countertenor and Piano as well as works by JS Bach, Clara Schumann and Eric Ewazen performed by Professors April Johnson, violin; Peter Seidenberg, cello; and pianists Dominic Meiman, Delana Thomsen and Tomoko Uchino.
Joining the faculty are guest artists, countertenor Robert Francis Orbach, pianist Lauren Ninoshvili and Darlene Kaukoranta, horn. The concert will be held at the school's Joan Behrens Bergman Auditorium, 25 School Lane, Scarsdale, New York. Program and performers subject to change.
Admission
Admission to the concert is $20 general admission and free for HBMS students. Tickets can be purchased in advance through Eventbrite, the school's website (www.hbms.org), by calling 914-723-1169 or by emailing [email protected]
For more information, call 914-723-1169, email [email protected], or visit www.hbms.org.
About the HB Artist Faculty Concert Series
Hoff-Barthelson's faculty includes some of the nation's most distinguished artists and educators. Many hold chairs in prominent New York orchestras, are members of world-class chamber ensembles, perform in major Broadway productions, and are in international demand as solo artists. Others teach at leading conservatories including the Juilliard School, Manhattan School of Music and Mannes College of Music. Held in Scarsdale, these concerts guarantee compelling musical creation of the highest caliber, in an intimate setting, at prices well below those of New York's major concert halls.
Additional concerts in the series will take place on November 18, 2022, February 10, March 3 and April 14, 2023.
About Faculty Artists
by Derek Cooper music has been performed worldwide by groups such as Contemporary, Sonic Apricity, Indiana University of Pennsylvania Wind Ensemble, Jenny Lin, Yarn/Wire, Ekmeles, Iridium Saxophone Quartet and Blueshift Ensemble. His work, Kill James, received the 2019 New York Composers Circle award at the John Eaton Memorial Composition Competition. 2020 gave way to virtual performances and Derek's Miniatures Project, Vol. 1: Puzzle. The project has been hailed as a unique and skillful way to redefine composition during the pandemic. The project has attracted worldwide attention.
Derek Cooper
Violinist april johnson has performed across the United States as a soloist, chamber musician, and orchestral freelancer. She has performed as concertmaster with the Jupiter Symphony and Galatea Ensemble, the Queens Oratorio Society, and the Canton Symphony of Canton, Ohio. She has also performed with the Norwalk Symphony as assistant concertmaster and the New York Chamber Soloists, the Ridgefields, Bridgeport, New Haven, Fairfield, Harrisburg Symphony Orchestras and the Pennsylvania Philharmonia. With her husband, cellist Peter Seidenberg and pianist Kate Boyd, she is a member of The Oracle Trio. She has recorded with the Lyrichord, Dorian and Newport Classics labels.
In addition to his teaching, Dominique Meiman has worked as a pianist/bandleader on several Columbia Artists Management national tours. For several years he was the principal pianist of the Light Opera in Manhattan, performing most of the Gilbert and Sullivan canons. Mr. Meiman is the composer of the children's opera Jack and the Beanstalk and is the arranger and co-librettist/lyricist of The Ring of the Fettuccines, an introduction to children's opera. He also orchestrated The Night They Invented Champagne, Operettas and the Musicals They Influenced.
Peter Seidenberg has performed in major venues across the United States, Europe and Asia. He made his solo debut with the Chicago Symphony and has since performed as a soloist with numerous orchestras, including the Century Orchestra of Osaka, Japan, the New American Chamber Orchestra, the De Paul Chamber Orchestra, the New York Chamber Soloists and the Eastman Rochester. Philharmonic. He was a founding member of the critically acclaimed Elements Quartet, which created groundbreaking commissioned projects involving over 30 composers. He has collaborated with members of the Cleveland, Tokyo, Juilliard and Emerson quartets and performed at festivals in Marlboro, Aspen, Caramoor, Casals and Norfolk.
Delana Thomson is a highly accomplished solo and collaborative pianist who has given recitals across Europe and the United States, as well as Master Classes in Iceland, Bulgaria and Italy. She has appeared in many venues including the Carnegie Weill Recital Hall and has been affiliated with the InterHarmony International Music Festival; Aspen Music Festival; Juilliard; Mannes College of Music and performs regularly with the Thomsen-Belli Piano Duo and the SAGA Ensemble. Ms. Thomsen was invited to perform with violinist Gudny Gudmundsdottir for the Mozartmarathon Tónleiker in Reykjavik, Iceland in 2018 with an acclaimed all-Mozart programme.
Tomoko Uchino has given recitals and concerts in the United States, Europe and Asia. As a soloist, she has won first prize in competitions such as the Ettlingen International Piano Competition for Young Pianists in Germany and the International Takahiro Sonoda Piano Prize Competition in Japan. She has also appeared in recitals, collaborating with numerous instrumentalists and singers at concert halls such as Alice Tully Hall at Lincoln Center, Carnegie Weill Hall, Herbst Theater in San Francisco, and Hamarikyu Hall in Tokyo, Japan.
For full faculty artist biographies, click here.