The Week in Classic: The Yeomen of the Guard; Alcina – music under siege | Classical music
NOTo Apologies for the return to Arts Council England (ACE) funding cuts. Header lines are last week, but the impact of a single ad will impact lives and livelihoods for years from now. Cutting costs in difficult times makes sense. Giving new suitors, across the country, a slice of the pie is right. To chop down, in one gratuitous act, an entire forest of hard-earned accomplishments is beyond reason or redemption. To penalize a capital, one of the most populated and culturally magnetic in Europe, is economic folly, regardless of any other criticism that may be leveled.
Many problems will arise during the replication. They will be processed in the coming months. For the moment, a reminder of the most affected areas for musicians, inevitably barely mentioned in the news. Contemporary music, the future of art, has been hammered. The London Sinfonietta – more than 50 orders and world premieres in the past four years alone – lost 41% of its subsidy. Manchester Brilliance Psapha together, an invaluable platform for new work in the northwest, has had its National Holding Organization (NPO) status stripped – not one of 990 announced for the 2023-26 investment cycle eligible for a share of the £446million available across all arts. Most disconcerting of all, the incomparable Britten Sinfonia was similarly deprived: a low insult to one of Britain's most inventive ensembles, which works closely with composers and serves the East of England and beyond.
Opera's losses, the bigger sums, the louder voices, got more attention, but not entirely. We should protest loudly against the cut, barely addressed, to National Opera of Wales, which is partly funded by ACE, as well as the Arts Council of Wales: a third of its ACE grant has been cut. This for a company which tours beyond Wales to Bristol, Liverpool, Birmingham, Southampton and Oxford, and which this season in particular has created some of the productions of the highest quality around. The cuts to Glyndebourne Tour Arm — the very part of the organization that embraces a wider audience across the country, as well as nurturing talent — also seems irrational.
We might assume that this country has no indigenous roots in this extravagant "foreign" art form. Not so. Last week, two new productions premiered here: Gilbert and Sullivan's The Yeomen of the Guard (1888), engagingly staged by Jo Davies for English National Opera, was first seen at the magnificent Savoy Theatre, specially designed for G&S comic operas. Handel Alcinewhich premiered at the Theater Royal, Covent Garden in 1735, opened last Tuesday at the Royal Opera House in a sparkling new staging by Richard Jones.
ENO's loss of NPO status caused the most outrage, and for good reason. (The Manchester move rumorsalready foreseen by excellent Opera North, have no substance yet and certainly make no sense.) The true story of ENO, its purpose and irreplaceable qualities, can never be told by the highly publicized behind-the-scenes squabbles. Instead, go check out this new Yomen, led with agility by Chris Hopkins, and examine – and celebrate – the incalculable musical and technical ingredients. (When Terry Pratchett noted that the opera happens "because a surprisingly large number of things fail to go wrong," he was quite specific.)
This is a true "company" work, not implying cozy staleness but the opposite: a well-drilled and vigorous orchestra and choirs; singers at all stages of their careers, some with international profiles happy to return to the place that nurtured them. Take the main directors. You could write a brief summary of ENO's scope and ambition by looking at their collective track record, with some three dozen productions between them. Strutting in high boots and breeches like Dame Carruthers, the mezzo-soprano Susan Bickley brings spirit, authority and assurance to every note sung or word spoken. His appearances range from Purcell to Berlioz via Ligeti.
The baritone Steven Page, one of the best interpreters of G&S, full of dynamism like Sir Richard Cholmondeley, is just as versatile, from Verdi to Offenbach via Henze. And the bass-baritone Neal Davies, a shrewd Sergeant Meryll, can sing Handel or Janáček or Ryan Wigglesworth with equal aplomb. ENO Harewood Artists newbies, like newcomers Innocent Masuku (Leonard) and Isabelle Peters (Kate), learn from these experts. So do the more established young talents of soprano Alexandra Oomens, mesmerizing as Elsie, and Heather Lowe, brimming with personality as Phoebe. John Molloy's charming and eccentric jailer and Anthony Gregory as the lover, Colonel Fairfax, add verve and style.
Davies and his design team, led by Anthony Ward and (lighting) Oliver Fenwick, have mixed historical periods, between the Tudor era and the 1950s. Jack Point, terribly played by actor Richard McCabe, is a boy in teddy in a draped jacket and two-tone oxfords. At the matinee the day after the Arts Council news, the entire cast took to their encore wearing T-shirts with the slogan "Choose Opera". The campaign started in earnest. Midweek, ENO secured an emergency meeting with Culture Secretary Michelle Donelan, calling for funding to be restored. Welsh bass-baritone Bryn Terfel has launched a similar petition. Details here. An action is scheduled for Monday at 11 a.m., gathering in front of the Colosseum, on behalf of the companies affected by the cuts. Expect the noise to increase.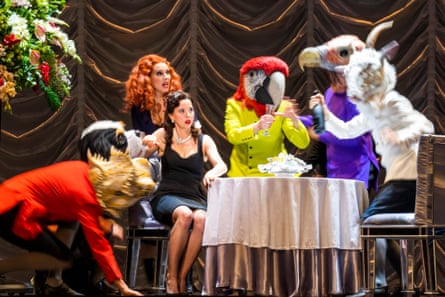 The Royal Opera Alcine – here little spared in terms of space, but no admiration – rippled with delicious animal magic in Jones' insightful, intelligent and quietly subversive production, designed by Antony McDonald, with choreography by Sarah Fahie and directed by Christian Curyn. With two witch sisters, the seductive Alcina (international star soprano Lisette Oropesa, glamorous in a sequined little black dress) and Morgana (the very popular British soprano Mary Bevan, enchantress in a punk waitress outfit), this opera reveals its considerable treasures only after a slow start. It was indeed slow, tempo-wise, but worth the wait for the mighty rollout.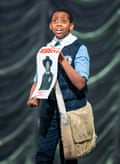 Every vocalist in this attractive cast showed their mettle. Despite the title of the work, the dominant role is that of the knight Ruggiero, sung by Emily D'Angelo, always in stride but showing formidable vocal mastery. Every singer, however, had intonation issues from night one, especially at the top of their range. Could this have been partly due to the use of a modern tuning fork, instead of the much lower baroque pitch that Handel would have known? The orchestral playing was full of character, the ROH strings using baroque bows for the first time; two continuists were duly applauded at the final curtain. The biggest cheers went to 12-year-old Malakai M Bayoh as Oberto, who overcame some coarse noises to give a heroic performance: a name for the future and just try to stop it.
Star ratings (out of five)
The Yeoman of the Guard ★★★★
Alcine ★★★★