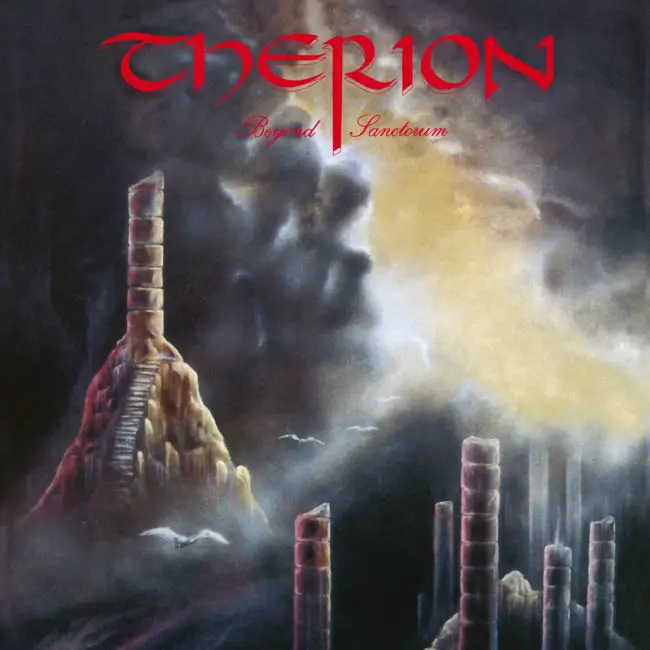 Therion Beyond Sactorum Review | metal junkies
All of the important bands in Metal music have interesting and thought-provoking histories. Some of them are straight, some of them are crooked. Some groups like Motorhead have a pivotal moment when they surrendered in what they became famous for. These moments can be quiet or violent depending on the paths chosen by the group. The changes can only be an evolution of the band's music as it happened to Iron Maiden. Other groups have experienced a violent and decisive moment in their career. Groups that have undergone rapid and startling changes in their careers are also numerous. Too many to list them all here. Therion, as many of us know, had two separate lives. One when they were Death Metal releasing two albums from the 1991s "From Darkness" and 1992 "Beyond the Sactorum." Since 1993 "Symphonic Masses: Ho Drakon Ho Megas" things have radically changed and the group has embarked on a symphonic path. In fact, it was Therion this kind of pioneer of this subgenre. In short, that's it.
Well, when I received these three albums as reissues of Hammerheart Discs I became very interested because Therion to me means a lot. It's funny to think about it because I haven't heard many albums from the band. Actually, I guess I only heard the 1999s "Coronation of Atlantis" and 2021 "Leviatan" that I saw here. Therion were important because my first contact with the band dates back to 1998 when I heard it for the first time. It was also the first time I heard this kind of music. I had never heard a Symphonic Metal with the two types of voice the gutural and the feminine soprano. Unfortunately, I don't know what album I heard at that time. I really don't know why I didn't bother to ask. Those inexplicable things that happen in our lives. I knew Therion had this other life as a Death Metal band but really I never wondered what it was like. A very important detail is that the release of the three albums is scheduled for April 08, by which time I have already piled up many albums to review. My first reaction was to do the same thing I did with Mug, skidrowand Exaggerated which was to write a single review for the entire pack. However, when I started listening to the material, I noticed that a single review wouldn't be enough to understand all the changes the band had been through. Also, this review would get so long that it would be the same length as if I decided to write three. So, to better honor Therion and their importance for metal music I write three reviews.
For memory, "Beyond the Sactorum" was recorded by Active records, "Symphonic Masses: Ho Drakon Ho Megas" via Megarock Discsand finally, "Lepaca Kliffoth" is the first of a long series with Nuclear Explosion Records. By the way, as my dear child of the night may have noticed, Nuclear Explosion Records was not responsible for the band's change of heart. Changes have happened before.
Therion could see the wave change from death metal to a kind of music that would have more melody and more elements of classical music. This is their main achievement. Pioneers are people with a vision. They see what no one can see. For now.
Ok then, now we can move on to the first album on this same list.
If my dear child of the night is very careful it is in "Beyond the Sactorum" this Therion start their wind of changes. I strongly recommend my fan to go straight to the fourth track "Symphony of the Dead" a track where the band practiced some of the features they would use in the future. Some elements like choirs with female voices and keyboards imitating classical music. Even playing Death Metal Therion was different from their peers. "Beyond the Sactorum" delivers elements that in 1992 were not common in death metal bands. There is a distinctive scent here if my dear fan pays close attention to it. Again. The slow and rhythmic movements of "Enter the Depths of Eternal Darkness" are closer to Doom Metal than Death Metal. The rhythm changes within the song are another distinctive element. Like many of their peers, the album opens with a killer fast track called "Future Consciousness" with what I call the drumming of machine guns. I guess my dear fan may wonder what kind of drum effect this is. Little by little the album slows down with more rhythmic titles like the following title "Pandemonic Outbreak" – Hey, what a minute! Some sort of divination? There is another eye-catching feature which is the prominent bass as in "Cthulhu" with its varied and frenetic pace. As I said before, in this album there are some slight references to what would come in the transfer albums. "Symphony of the Dead" tastes like Scorpios in the early years as in the 1972s "Lone Raven" and 1973 "Fly to the rainbow ."
So, "Beyond the Sactorum" is not a fan only album. Not only for those who are interested in knowing by Therion first albums. It is much more than that.
Therion "Beyond the Sactorum" will be released on April 08 via Hammerheart Discs.
List of tracks:
future consciousness
Pandemonic epidemic
cthulhu
Symphony of the Dead
Beyond the Sanctuary
Enter the depths of eternal darkness
illusions of life
The path
Paths
Tyrants of the Damned
look "Pandemonic Outbreak" official video here:
.