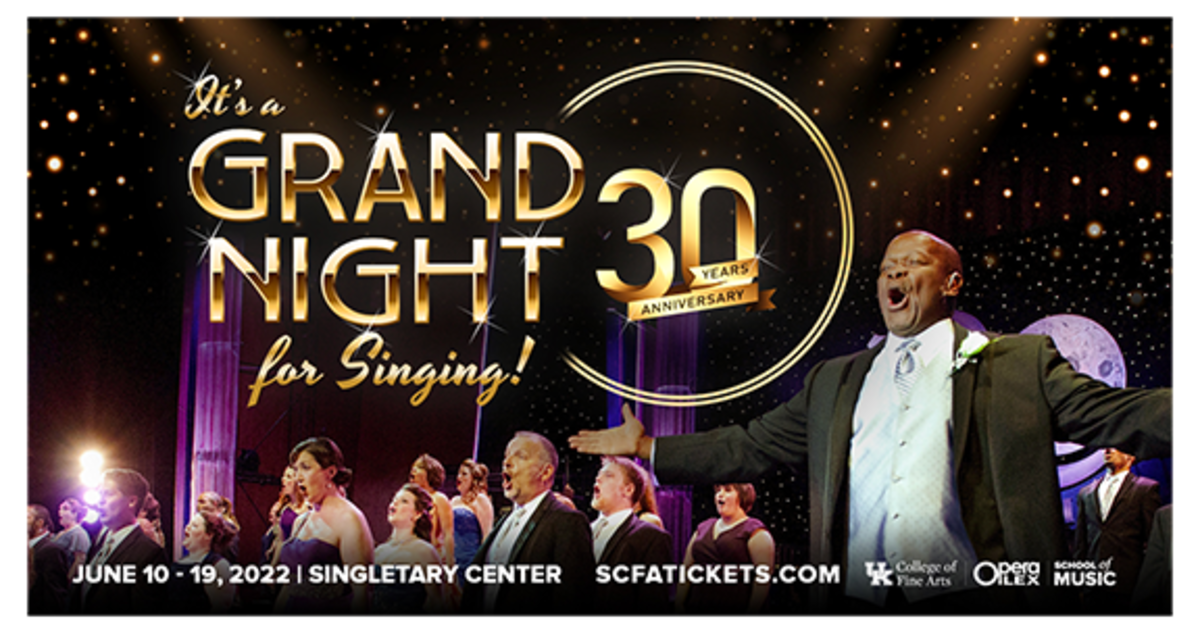 UK Opera Theater announces the 30th anniversary of "It's a Grand Night for Singing!"
LEXINGTON, Kentucky (May 11, 2022) — The University of Kentucky Opera Theater (UKOT) is proud to announce the 30th anniversary production of "It's a Grand Night for Singing!" live at the Singletary Center for the Arts, June 10-19, 2022.
For 30 years, the UK Opera Theater has been delighting summer audiences with the Emmy Award-winning show, showcasing the best of Broadway, past and present. Join UKOT for a celebration of 30 years of "It's a great night to sing!" featuring the best and brightest talent in Central Kentucky.
In 1992, the UK School of Music's opera program launched a summer show celebrating the talent of its students, creating a platform for students to practice musical theater songbook. Over the years, this intimate musical revue has evolved into a spectacular production with over 70 performers, a full orchestra, sets and costumes rivaling professional companies. The show represents an important partnership between the university and the Lexington community, bringing together students and local artists to share the spotlight.
Featuring the best of Broadway showtunes and the best of British student and community singers, this year's 30th anniversary "Grand Night" will bring audiences two weekends of performances, starting at 8 p.m. on Friday June 10, with additional mornings on Saturday at 2 p.m.
This is a reserved-seating show in the Singletary Center Concert Hall. Tickets are $45-55 for general admission, $40-50 for seniors, and $15 for students with a valid student ID. To purchase tickets, contact the Singletary Center Box Office online at www.scfatickets.com, by phone at 859-257-4929 or in person onsite.
Valet parking will be available in the Singletary Center circle on Rose Street.
The highly acclaimed UK Opera Theater program is part of the School of Music at the UK College of Fine Arts. The school has earned a national reputation for teaching of the highest caliber in the fields of opera, choral and instrumental music, as well as music education, music therapy, composition, theory and of music history.
Performance dates and times include:
8 p.m. on Friday, June 10
2 p.m. Saturday June 11
8 p.m. Saturday June 11
6 p.m. Sunday, June 12
8 p.m. on Friday, June 17
2 p.m. Saturday June 18
8 p.m. Saturday June 18
2 p.m. Sunday, June 19